Thank you to Paul Westervelt of Saunders Brothers for providing the following article.

I love the new First Look list each year because it's pure excitement! First Look plants are those that show early promise in the combined trials of the SynRG growers. It's a distilled list of the awesome of recent introductions and the next step on the path to the Handpicked for You® trust mark.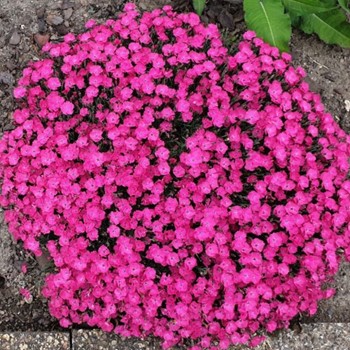 In our Virginia trials, Dianthus Vivid™ Bright Light PP28,239 is Neo from The Matrix or Wyatt Earp from Tombstone… it's "the one". I first saw Dianthus 'Kahori' planted in the ground in a Michigan trial garden one August several years ago and it was in full blazing flower – a big bed of it. Dianthus smells like May to me and I stood stupefied smelling May in the hot, humid, August air. I've chased that moment since then, but summers in VA are different than those in MI and while several series have one upped the original, none has risen to that magical Michigan moment until now. Dianthus Vivid™ Bright Light PP28,239 starts blooming in mid spring – earlier than most – and keeps chugging right along through the hot summer nights into fall. The plant forms a compact mound of blue-green foliage 14" wide and the 8-10" tall flowers stems are stout enough that they don't flop. A mid-summer shearing isn't necessary to keep the flower show going, but it does remove the accumulated spent flower stems which are so numerous they can fool you into thinking the blue green foliage has turned brown. Hardy from zones 5-9.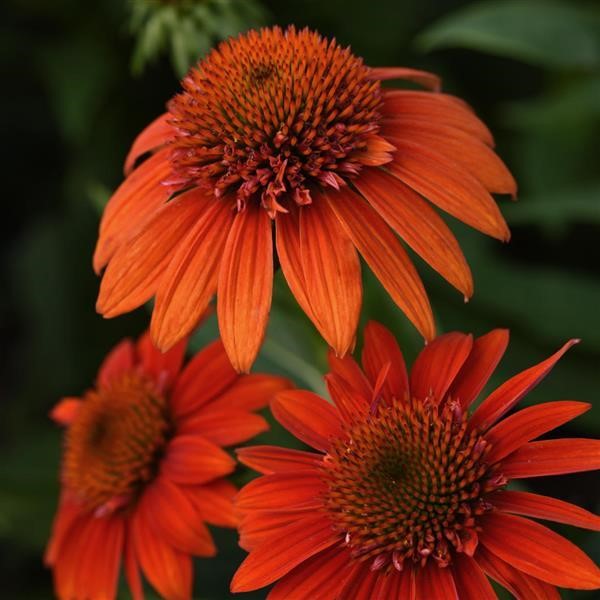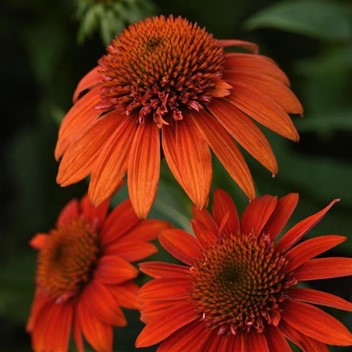 Echinacea Sombrero® Fiesta Orange PPAF adds variability to a very predictable series. We've all learned to expect compact, well branched, hardy Echinacea in a range of vibrant colors from the series. Fiesta Orange PPAF is the first to offer variable flower shape. Sometimes it's semi-double and sometimes it's single, but it's always impressive. A hair later blooming than the rest of the series, it also has the distinction of having the best form after flowering – not a huge selling point, but I appreciate perennials that look stellar even after their time in the spotlight has passed. Sombrero® Fiesta Orange PPAF is best in full sun and hardy from zones 4b – 9b. Photography credit: Darwin Perennials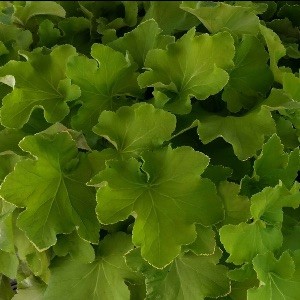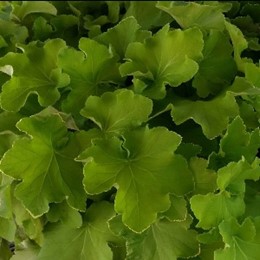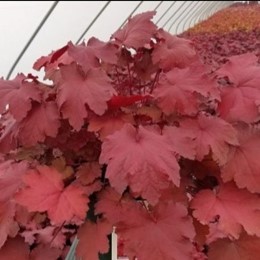 Having older siblings can be challenging at times, especially if they were particularly outstanding at something. "Oh, you're so and so's little brother." Even if they don't say it, you can hear the expectations in their voice. Fortunately for them, Heuchera 'Guacamole' PPAF and 'Magma' PPAF are plants so they don't feel the pressure of being bred from the same program that created the perennial staples 'Caramel' and 'Citronelle'. It does help explain their awesome, though. At 12" tall and 24" wide, 'Guacamole' PPAF is much bigger than its "big sister" Citronelle and has bigger leaves too. While 'Guacamole' PPAF is robust in the ground year after year, it's a gentle giant and is just as sensitive to the sun, so make sure it has at least afternoon shade. 'Magma' PPAF is about the same size as 'Guacamole' and has equally large leaves but they're red and mature to the brownish side of red. Scads of light pink flowers top 'Magma' in summer. Both cultivars are hardy from zones 4-9.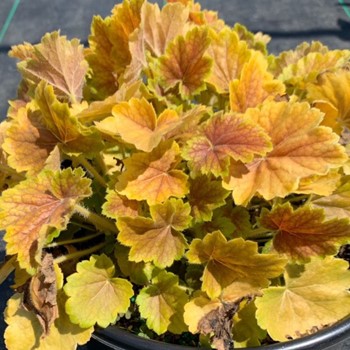 The Northern Exposure™ series of Heuchera was bred to be more cold hardy (to zone 4 and some to zone 3), but there's more to the series than just cold hardiness. They're also remarkably heat and humidity tolerant and have stellar ground performance. So far, the series consists of solid colored cultivars with the notable exceptional of Sienna which could just as easily have been named 'Scrumdiddlyumptious' if it wasn't so cumbersome to spell. Spring foliage emerges yellow with orange centers, matures to solid yellowy green in summer and then gets some of that scrumptious orange color again in fall. Copious dark pink flowers on red stems in late spring is vibrant confetti over the foliage party. Hardy from zones 4-9.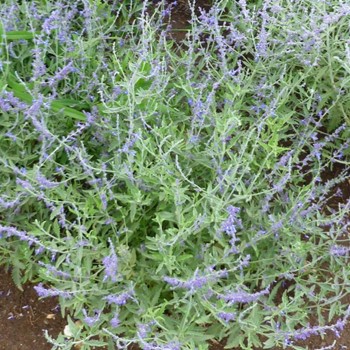 When viewed by themselves, Perovskia can be pretty indistinguishable. Some are big and others small but after that, they all have gray-green foliage and purply blue flowers in mid to late summer. Plant a bunch a of varieties side by side and the differences are more easily noticed. Of the eight industry leading varieties we have in ground trials, Perovskia 'Crazy Blue' PP25,639 consistently outperforms the rest. It has the best vigor coming out winter, at a hair more than 2' tall it splits the difference between the big and little cultivars, it's the first to flower starting in mid-June in VA, and doesn't fall apart as a result of late summer thunderstorms. That's in addition to the drought tolerance, long flower show, and deer resistance we've all come to love about the genus. Best in full sun and hardy from zones 4-9. Photography credit: Ball Seed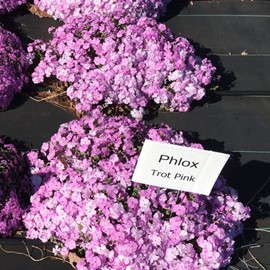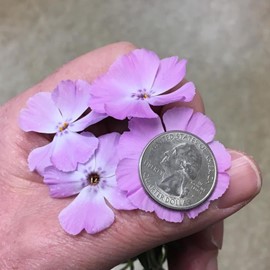 Moss Phlox cultivars have stayed relatively the same for ages, but several breeders have picked them up again recently and one of our favorites newbies is Phlox subulata Trot™ Pink. After the catchy name, the first thing you'll notice is the increased vigor. Almost everything about this plant is bigger including, most importantly, the flower. Imagine bubblegum colored fifty cent pieces covering the canopy and you'll have an accurate mental picture (minus JFK's bust). The only thing we've found not supersized about this plant is the overall habit which was both surprising and welcome because it means you don't get any of the flop can that accompany some bigger mounding Phlox. Best in full sun and hardy from zones 4-9.
For more information about these and the other First Look selections please contact your Handpicked For You® sales representative with one of SynRg's founding growers.