Thank you to Paul Westervelt with Saunders Brothers Nursery for sharing the following details on some of the new Handpicked for You® plants.

From the boxwood people at Saunders Brothers comes NewGen™, a new line of boxwood that's naturally resistant to both Boxwood Leafminer and Boxwood Blight. Buxus NewGen Independence® is a little smaller at 4' x 4' and holds its darker green color throughout the winter. NewGen Independence® makes a great alternative to "English Boxwood" ('Suffruticosa') which is very susceptible to Boxwood Blight among other things. Use it in zones 5b-8 for a medium hedge, specimen, foundation planting, or as a backdrop to an elaborate perennial planting. NewGen Freedom® is a faster grower and a little taller than it is wide. Eventually reaching 5' x 5' with medium green, glossy foliage, it makes a good alternative to 'Wintergreen' or 'Winter Gem' in zones 5-8. Both varieties are very resistant to deer browse and will grow well in full sun, part sun, or full shade.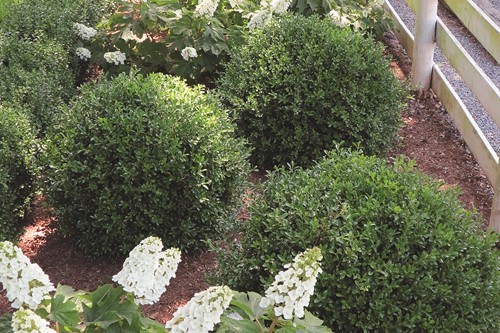 Buxus NewGen Independence®
PP28,888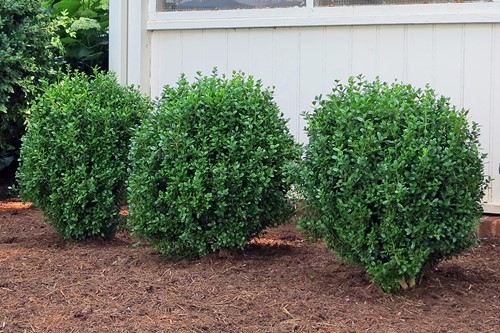 Buxus NewGen Freedom®
PPAF

The Northern Exposure™ series of Heuchera was bred to be extra cold hardy and, hardy to USDA zone 3, Northern Exposure™ Black is impressively tough. That's -40F! But I live, grow, and garden someplace warmer than that and I bet you do too. So what does Northern Exposure™ Black do for us? It thrives. It doesn't just live, sulking through hot, wet summers, it flourishes. I've been astounded in trials to see a series bred for cold hardiness also be incredibly heat and humidity tolerant. They're just tough. Every line of Heuchera offers a black option and there are some standards that have proven their worth over the years. Northern Exposure™ Black is the best performer in the color class in our trials even against its cousin (and industry standard), Obsidian. The folks at Terra Nova know Heuchera. They love Heuchera like I love ice cream – in all its forms and flavors. Do we need another ice cream? If it's great, yes. Northern Exposure™ Black is great.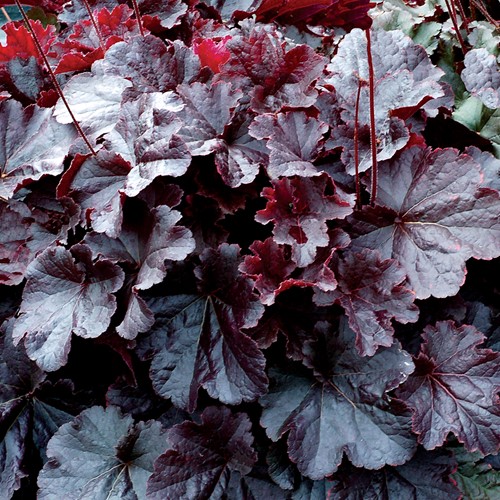 Heuchera NORTHERN EXPOSURE™ Black
PP30,583
Photography Credit: Terra Nova Nurseries, Inc.

The heat of a mid-Atlantic summer can wash out the subtle color variance in some flowers and the pinwheel pattern on hardy hibiscus is one of those casualties. While gardeners further north enjoy vibrant patterns, we often get a watered down version. Hibiscus-lite. Hibiscus 'Starry Starry Night' PP27901 breaks that unfortunate trend with vivid pink and white floral pinwheels on dark burgundy foliage – a color combo that pops at 100 yards. At 4' x 4', it's big, but compact enough to play well with others and deer resistant which matters more all the time. Hardy from zones 4-9, it's a great performer well into the frosty north where the flower pattern is even more pronounced (you lucky ducks). While perennial hibiscus prefer wetter sites and are sometimes found naturally in standing water, our trials found they perform just as well with average soil moisture.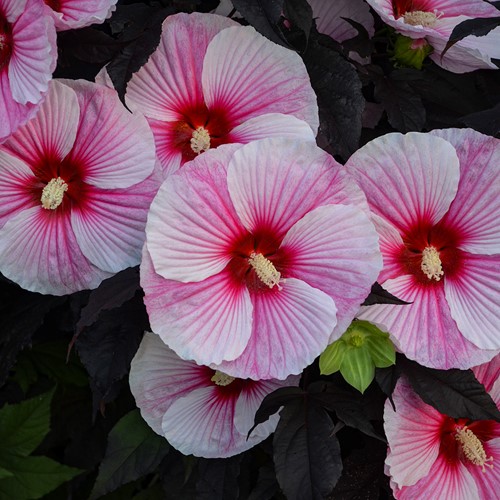 Hibiscus 'Starry Starry Night'
PP27,901
Photography Credit: Walters Gardens, Inc.
In a species dominated by blue and white cultivars, pinks always stand out and none more than Salvia 'Rose Marvel' PP30039 that quietly boasts the largest flowers of the color class. They're huge! More than just big, they're also a wonderfully intense pink with darker buds which combines to offer a stunning richness of color that's currently unmatched. Over 3 years in ground trials, 'Rose Marvel' maintained a tidy 12" x 12" mound. Hardy from zones 4-9 and deer resistant, it's an easy, colorful addition to the full sun garden. 
Salvia nemorosa 'Rose Marvel'
PP30,118
Sedum Sunsparkler® Angelina's Teacup PPAF does the uncommon and impressive job of improving a much-loved perennial staple, Sedum 'Angelina'. Angelina's vibrant yellow foliage took the gardening world by storm, but it can look a little unkempt in the pot and shabby in the landscape after flowering. 'Angelina's Teacup' (teacup for miniature, like a teacup poodle) is a mini, better branched version with a denser habit. Because it doesn't flower, it doesn't go through that awkward recovery stage post flowering. With the onset of cooler temperatures in fall, the foliage of Angelina's Teacup takes on warm orange tones. In two years, our plants formed a low mat of foliage 12" wide and only 1" high.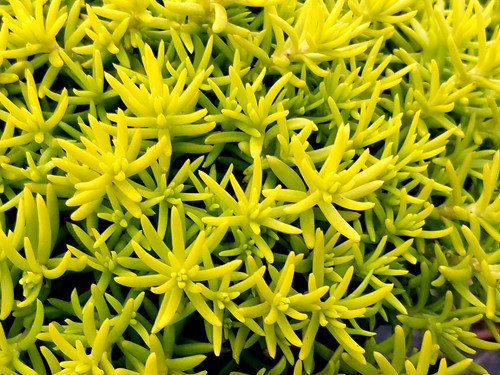 Sedum Sunsparkler® Angelina's Teacup
PPAF