From Overdevest Nurseries
With new plant names increasingly incorporating everyday words and expressions, join us as we take a pun-intended look at 2021 in review.
The holiday season is a (Sedum) JOYFUL and festive period, a time to reflect and (Leucothoe) REJOYCE in a year that was. 

Spring 2021 marked the 5th year of the Handpicked for You® program. A total of 325+ independent garden centers across the Mid-Atlantic, Northeast, and eastern Canadian region are now part of the Handpicked for You® community.

From an embryonic idea that was introduced at MANTS in 2016 it has grown and blossomed into a thriving alliance of the world's top plant breeders and introducers, founding SynRG® growers and very importantly select independent retailers. Working together to bring homeowners and new aspiring gardeners, a first-rate check list of the BEST performing outdoor plant selections at a time when (fortuitously) many homebound owners needed it most!
   
Amidst the angst and uncertainty of the Covid pandemic many turned to gardening and discovered the consoling pleasure of enjoying the beauty of plants and cultivating the earth, they enjoyed an easier, simpler selection process and the reassuring confidence that comes with having plants that are locally tested and trialed and certified to thrive in neighborhoods across this region.
       

As we close out the year and prepare for another new growing season, it's a good time to look back, to reflect on the past year's achievements. The most recognizable Handpicked for You® 2021 accomplishment was a rebranding process which resulted in a fresh logo, with eye-catching colors, a powerful tagline and relatable messaging, all carefully crafted and designed to help make selection easier and the promise of desired results more achievable.

Tagline: Certified to Thrive

Consumer Value Proposition: A trusted favorite, locally tested and certified to thrive so you can plant with confidence

Overview: Plants certified with the Handpicked for You® trustmark are regionally tested and independently verified, through a rigorous review process, to be consistent top performers from a wide range of breeders and growers. Handpicked for You® certified plants provide a reliable promise of success and quality to new and experienced gardeners alike.
A rebrand is great but how is the original mission of the program working?

Now 5 years in, with a concerted and thorough testing and trialing process in place, we can look back and assess the concept positioned as "a better process to SELECT and PROMOTE the BEST NEW plants for your area." How have the newly certified plant selections been received? Have we been able to tap the "multiplication effect" of the five founding SynRG® growers, plant breeders and introducers, and the combined power of hundreds of independent retailers?

Well, the proof is in the (Heuchera Plum) PUDDING! Look at the 5-year track record of Handpicked for You® certified plants and the answer is…. a resounding YES!

Here's just a few examples…
Berberis WorryFree® Crimson Cutie® (Certified in 2019) – Call it timely or more accurately visionary, and you'll see how this outstanding non-invasive selection is rapidly becoming the essential ingredient of landscapes right across the entire region. As the issue of invasive species becomes more apparent the need for hardy, reliable, easy to grow, deer resistant plants like this that are scientifically proven to not spread into the landscape has become ever more important. Something that Professor Mark Brand (UConn) recognized close to 20 years ago when he began to think about developing sterile barberry selections and something that the Handpicked for You® community realized and insightfully fostered. Now thanks to all that visionary work, it is amazing to see how popular and essential this beautiful, little compact growing beauty has become.   
Carex Feather Falls™ (Certified in 2020) – This plant came on the scene with several Carex selections already seemingly filling the need for evergreen, shade tolerant and deer resistance groundcover. Why climb (Carex) EVEREST again? Well, thanks to our collaboration with Handelskwekerij Exceptio BV and Pacific Plug and Liner, the Handpicked for You® selection process identified the uniqueness of this incredible selection early on and showcased it as part of the First Look collection. This introduction is now garnering a unanimous (Schizachyrium) STANDING OVATION for its vigor, habit and winter color. Grass liner propagators have been anxious to add to their collections – a further validation of the plant's merits.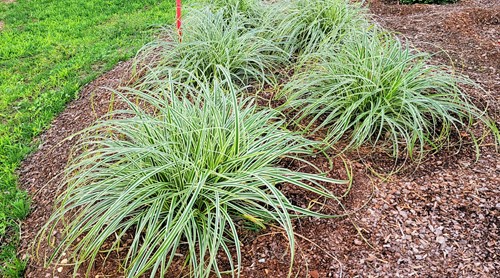 NewGen Boxwood® (Certified in 2021) - Likewise, the team at Saunders Brothers didn't try to ignore the looming menace of Boxwood Blight when it raised its head. Rather they grasped the severity of the situation, rose to the challenge and shared their expertise with the Handpicked for You® organization – a collaboration which resulted in the certification of the two fabulous NewGen® Boxwoods FREEDOM® and INDEPENDENCE® – now gardeners throughout the Mid-Atlantic and Northeastern states can plant boxwoods with confidence, a fact validated by the recent White House Rose Garden planting and garden renovations at the internationally famous Longwood Gardens.
Perovskia Blue Jean Baby (Certified in 2019) – Those of us who have tended to plants on open, windswept, deer infested sites with searing summer sun and cold winter temperatures are always interested to know about plants that perform well in the "windy city" (Chicago). So when the Richard Hawke, Plant Evaluation Manager and Associate Scientist at the Chicago Botanic Garden published his report on their Perovskia trials, we were gratified (but not surprised) to learn that BLUE JEAN BABY had excelled there too – emerging as one of their top picks! Right from the start of the evaluation studies at the nurseries, and the reports from the Handpicked for You® retailing partners, we could see how its vigorous, yet compact and very uniform, full bushy habit and vivid, bright flowering characteristics were going to make it a plant of considerable distinction. Almost immediately we knew it was destined to become a superior introduction, and it is always nice to learn that other esteemed institutions outside our region conclude and support that too.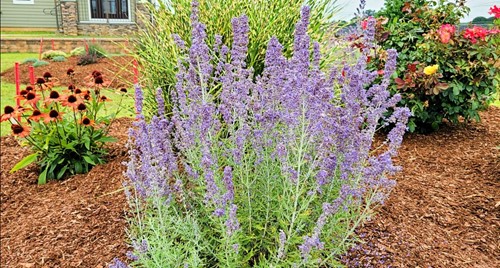 Rosa True Bloom® True Passion (Certified in 2020) – The success and potential we discovered in new plants wasn't just confined to shrubs, perennials, and ornamental grasses. It extended to roses too. Just like the early promise we noticed with the others, TRUE PASSION set our hearts afire. And thankfully, the love affair got better and better as time went on.

That's why we had no hesitancy in certifying it, and why this independently verified and multiple award winner is another great example of how Handpicked for You® plants are trusted favorites that homeowners of all levels of gardening knowledge and experience can benefit from. It is quite simply transforming the rose scene with its continual supply of big salmon-red flowers, magnificent disease resistance and all-round garden performance. If you'd like to find out more about it, here's a link to a video we filmed in our "no spray" trials. What is outstanding about this, is that it was recorded at the worst possible time for roses (in the intense sunlight, heat, humidity and drought stress of mid-summer) and still as you will see… it flourishes and performs without any spraying or dead heading!
Miscanthus WorryFree® Bandwidth & Scout (Certified in 2019) – A few weeks ago, I happened to be driving in the Chester Springs / Malvern, PA area (west of Philadelphia) and was appalled to witness invasive Miscanthus sinensis out of control in that area. This is something I've been casually noticing along the PA Turnpike and elsewhere in localized spots in our region, but this was the first time I had ventured into areas where it is concentrated and becoming a real problem. Thank goodness Drs. Wayne Hanna and Brian Schwartz, UGA, and Tom Ranney (NCSU) had the foresight to use modern scientific methods to develop non-invasive forms. The evaluation teams at the founding nurseries and participating garden centers trialed and selected the best of these as BANDWIDTH & SCOUT™. Now, just like the issues surrounding invasive barberries and the perils of boxwood blight the Handpicked for You® program has identified and trialed these superb (scientifically proven) alternatives, so that all of us within our industry and the public at large can still enjoy the benefits of these tough and adaptable, deer resistant, highly ornamental grasses without the worry of seedlings spreading into surrounding areas. 
Rudbeckia American Gold Rush (Certified in 2019) – All good gardens are comprised of plants that reflect the seasons, and one of the Handpicked for You® selections that brings gardens alive in the latter months of summer and early Fall with glorious, shapely golden mounds of color is AMERICAN GOLD RUSH, a selection with tremendous ornamental value, outstanding disease resistance and terrific garden performance. It stood out prominently and consistently in the evaluation process. Factors that were validated recently with its selection as a 2020 AAS National Herbaceous Perennial All-America Winner. 
That's just a small sampling of the 145 Handpicked for You® certified plants but it serves to illustrate the innovative, cutting-edge nature of these top garden performers. They are not esoteric connoisseur plants but plants that have already proven their worth as landscape staples, ones that deliver gardening success for new and experienced gardeners alike right across our region. They demonstrate how they help purchasers make their selections easier, with more confidence and assurance, and how it helps to position participating Handpicked for You® local retailers to be at the forefront of our industry. And because "success breeds success", it also enables participating garden centers to better compete for a larger share of consumer's disposable income.

So YES, the selection process is indeed working! We might even we go so far as to say the program is catching (Cornus Scarlet) FIRE!

The track record of successful partnerships has created an (Hydrangea Cherry) EXPLOSION of opportunities that we are excited and delighted to bring first to you – the independent channel.

As we look back, we can also look forward – in particular to the development of more WorryFree® plants, an exciting off-shoot of the Handpicked for You® / SynRG® initiative that brings fabulous plants that offer "Solutions for Success" as well as beauty and proven performance. There's real progress, potential, and thrilling opportunities to report on here too. But, that's for another edition… So stay tuned because there is lots of excitement and WorryFree® solutions that we will be telling you about!

What's the final take-away? Stock the BEST, to SELL the BEST!

So, here's a toast to a (Forysthia) MAGICAL GOLD holiday season and the potential for an even better (Salvia Rose) MARVEL of season in 2022!