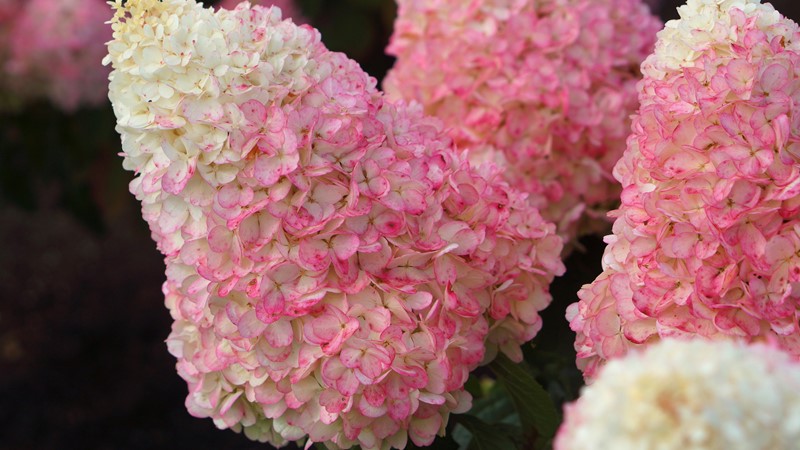 By Tim Kane, Prides Corner Farms
Pictured above: Hydrangea paniculata Pink Avalanche™
Photography Credit: Concept Plants
June is upon us and, while we are all still super busy whether on the growing end of the business or the retail end, it won't be long until our thoughts will be turning to 2022.  As crazy as this might seem after spending the last couple of months just trying to keep our noses above the waterline each day, it is inevitable that we all start thinking about next year even when fully immersed in 2021.  There are many things you might be thinking about when looking forward to 2022 but at the head of the list for any plant head has got to be the question: What's new for 2022??

That question has been on the mind of your Syn-RG® growers since well before the spring of 2021 commenced since it does take more than a little time to get exciting new plants to the availability stage for our IGC partners.  While work has been going on behind the scenes for many months on new plants being offered in 2022, Cultivate is the place where all that hard work is revealed to the industry.  Cultivate is really a finish line for the 'behind the scenes' work to get new plants ready to show and the starting line for selling these outstanding new plants to you.  Rather than making you wait until you get to Columbus to see what is new for '22, we'll give you a sneak peak of these outstanding new Syn-RG® plants right now.
Syn-RG® will debut our new Summer Lights® plant collection at Cultivate this July in Columbus.  Summer Lights® collection plants will capture the magic of those long summer days and nights through the powers of these outstanding plants that feature long lasting summer color for the garden or patio.  There is nothing like carefree color to brighten up summer living and entertainment in the yard and the first two plants in the Summer Lights® collection capture that Summer Glow in spectacular fashion.
Hydrangea paniculata Pink Avalanche™ will bring massive color to any summer landscape and all you have to do is sit back and enjoy the view.  Pink Avalanche™ features huge pyramids of white flowers that open in mid-July atop stiff stems that are perfect for holding these burly 12"+ flower cones.  Its compact habit is perfect for even tight spots in the landscape or closer to your patio so all your friends and family can enjoy the color up close.  Pink Avalanche™, like all great summer Hydrangea, stays in bloom seemingly forever but with the added bonus of undergoing a color transformation as the weather cools.  Its bloom starts pure white, gradually changes to pale pink and continues to deepen in color until it ends up a deep, glorious pink as September wanes and October begins.  All that color magic takes place on a plant that is so easy to grow that it will make even a new, novice gardener feel like an absolute pro!
Hydrangea macrophylla Rock-n-Roll™
Who doesn't love the cool blue summer magic that a sweet blooming macrophylla Hydrangea can bring to the landscape?  People are crazy for that elusive blue color and Rock-n-Roll™ delivers that magic effortlessly.  A sport of Hydrangea Endless Summer® Twist 'n Shout® that was discovered by Dr. Michael Dirr, Rock-n-Roll™ takes the attributes of Twist 'n Shout® and takes them a step further.  Stiff stems feature outstanding red color and are covered with deep green foliage that forms a perfect backdrop for mophead flowers in dreamy blue to purple shades that nearly cover the plant. 

Exceedingly hardy and blooming profusely on old and new wood, this reblooming masterpiece will be the envy of the neighborhood providing a full season of color from June to October.  At 5 to 6' tall and wide, Rock-n-Roll™ can be the perfect summer blooming specimen or can spice up any border area with its great form, foliage and incredible summer blooming power.


The Syn-RG® growers created the WorryFree® plant collection a couple years back to showcase plants that solve landscape problems while thriving and thrilling with a minimum of care and input from the homeowner.  Plants included in the WorryFree® collection are the University of CT bred, sterile, non-invasive Berberis WorryFree® Crimson Cutie® and the sterile, non-invasive Miscanthus Scout™ and Bandwidth™.  These beautiful problem solvers have been extremely popular with homeowners and 2022 will see a couple of outstanding new additions to the WorryFree® collection that will be unveiled at Cultivate 2021.
Berberis WorryFree® Lemon Glow®
Bring your best RayBans when you take a look at this brilliant University of CT bred selection.  This seed free, sterile selection certainly does not skimp on the color all on a tight, rounded form that can be used to add a jolt of sunshine planted alone or grouped to form a care free hedge or border planting that will nearly be a plant and forget option for any homeowner.  Like WorryFree® Crimson Cutie®, WorryFree® Lemon Glow® is non-invasive and a great problem solver in any landscape because of its ability to survive and thrive in poor soils and unrelenting sun.
Thuja 'Junior Giant'
'Junior Giant' is, likely, one of the worst kept secrets in our industry.  Part of the WorryFree® collection due to its outstanding deer resistance, rumors of this slower, smaller growing selection of 'Green Giant' have been circulating for years.  This easy care evergreen is ready to take the landscape by storm with a 15-20' mature height that is one third to one half smaller than 'Green Giant and its half to one third narrower profile.  Easy to grow, easy to control and deer resistant…do you think that any homeowners that visit your garden center will be interested??  The Syn-RG growers are busy building numbers of this Zone 5 hardy hedger and you can marvel at its tight form and deep green foliage at Cultivate this year!

With these four wonderful new selections, you can see why the Syn-RG® growers are already thinking of 2022 and are looking forward to showing off at Cultivate 2021 in Columbus this July. Come by and get ready to be thrilled!