Interview with Harini Korlipara M. Phil. and Ph.D 
Lab Manager and Plant Breeder, Terra Nova Nurseries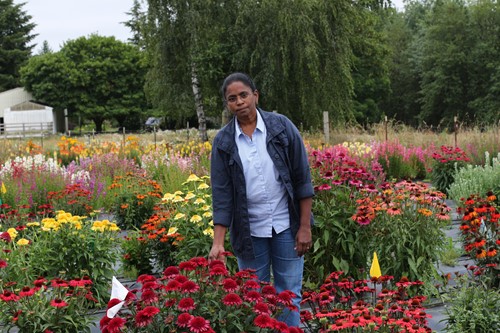 Harini Korlipara is the genius behind the amazing new coneflowers from Terra Nova Nurseries that grace our gardens. During her 18 years of inspired breeding, she has brought us exciting new flower forms, breakthroughs in plant habit and above all selections with electrifying, vivid colors. David Wilson from Overdevest Nurseries had a chance to ask her the following questions… here's her answers, and the scoop on how the ground breaking new Kismet™ series (which we are currently testing) got their name….         
What is it about your job plant that excites you?   
Seeing something new every day. Sometimes I feel I am like a kid in a candy store. When we are making selections, it is hard to pick one and drop the other as we have way too many garden worthy plants.
When and how did you get interested in breeding Echinacea?
When I have started Echinacea breeding (in the year 2000) there were only pink and white flower forms of purpurea.  To do interspecific breeding it requires some lab work (embryo rescues). That's how I started working with this crop and initially my goal was to bring [other] colors. After 18 years of breeding I am still not done with this crop. It really amazes me when I look back to see where we started and what we have today.
What are your breeding objectives for Echinacea?
I am looking to create garden worthy, easy to grow, attractive plants with high flower power, clear/ bright/long lasting color with good branching, and the plants should look acceptable even with spent flowers. I would like to have a full series which suits both for landscape and container gardening with singles and double flowers.
We are very impressed with your Kismet™ selections, we love the compact, bushy habit, the clear colors and especially their free flowering ability, they seem so good that it seems they could not be improved upon, but are there any objectives that you are still in pursuit of?   
As I mentioned earlier I am still not done breeding with this genus. I would say wait and see.
Who came up with the name "Kismet"? Was this name put forward because the word means "fate and destiny" or was there some other thinking behind it?
Our naming team came up with Kismet series name. Our Product Development Director Chuck Pavlich has the most input in naming series.  In Chuck's words: "When I saw the first plants of what would become the KISMET™ series, I was truly impressed and knew, without a doubt that this would mark a new chapter in Echinacea breeding; these plants would be the new standard which other Echinacea would be measured by. It would be our fate to change the industry's opinion of our Echinacea, thus I chose Kismet to represent the group".  
I understand you came originally from India, can you explain a little about your upbringing and how you got started what it is about plant breeding.
I was born and brought up in India and I am a typical city girl but definitely have genes of enthusiasm in breeding as my grandfathers on both sides were farmers. I thoroughly enjoyed working in a pepper breeding project for my Ph.D. Now, when I use my skills in the breeding of Echinacea, I look forward to working more and more on interspecific breeding aspects. Terra Nova provided a strong platform for me to apply my experience and explore, and thankfully all my hard work has really started to pay off. I have to give all the credit to the Terra Nova team for their constant encouragement.