Interview with Ping (Jianping) Ren (任建萍), Ph.D.
Senior Plant Breeder, Pan American Seed / Kieft Seeds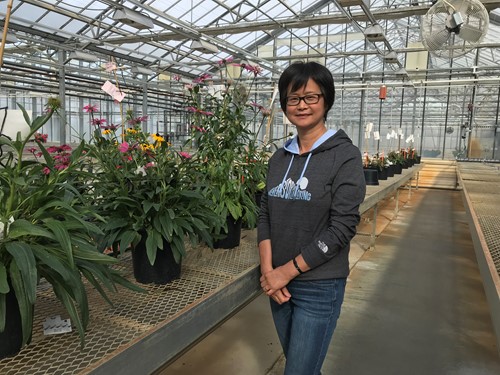 Jainping Ren (Ping) has been instrumental in developing some of the best performing new coneflowers during the last ten years or so, her Sombrero® and Double Scoop® series have brought not only short compact, free flowering varieties with better branching to make fuller plants, but also ones that flower earlier and unlike several of the early colored forms ones that survive better in the landscape.
To find out more about her approach to breeding these terrific perennials and to get her perspective on what we might expect in the future, David Wilson from Overdevest Nurseries asked her the following questions (including a glimpse of her fascinating background).     
What is it about plant breeding that excites and fascinates you?   
I grew up in China, and life was not easy that time. In our backyard, my father grew vegetables to lower the food cost for our family, and despite difficult economic times, he always found space to grow some flowers. His gardening nature strongly influenced me as I grew up.
When I entered college (majoring in horticulture), I was amazed by the diversity and beauty of nature in plants and flowers, and I became interested in horticultural crops. As I learned about plant genetics, plant breeding, and understanding I could see how traits of inheritance are controlled by genes and their interactions with their environments. I admired how plant breeders could create new varieties with super characteristics, benefits that improved both the industry and consumers.
My dream of becoming a plant breeder became clearer. After years of graduate study and breeding experience on vegetable crops, I had an opportunity to become a flower breeder at Pan American Seeds and I have been with Ball Horticulture Company since 2001, and even though breeding is not an easy job, I am very happy to be around plants and flowers all the time.
My breeding philosophy is working hard, believing, not giving up, and constantly exploring new possibilities. Breeding is a process of daily making many decisions. My job as a flower breeder involves trying to make the right decisions all the time… at every stage of plant life. By carefully selecting the right seeds, seedlings, plant branching habit, flower color and durability, seed set and quality, and of course using the right combination of parental plants.
Making the right decisions is key to developing a successful variety. The more correct decisions you make, the more likely it is that you are going to be successful. Getting all those decisions right together, leads to a successful product. 
I am amazed by how much variation there is in plant habit, branching habit, color, and earliness to flower. I am fascinated to see how many new characteristics or traits can be created through breeding, for example, the development of totally new colors (yellow, orange, red, burgundy in Echinacea, and black, green, or velour in Petunias).
I am pleased that our customers and home gardeners choose and love our products, and I really appreciate that they enjoy their beauty too.
I am very proud of my contribution to help our company color the world.
I feel so fortunate at each step of my life, there always has been someone to encourage and help me in various ways, like professors, colleagues, friends, and many more.  I love my job and enjoy it. 
Why Echinacea – what was/is it about coneflowers that got you interested in breeding them?
Echinacea is a very popular and often rated as one of the top 10 perennials.
It originated in prairie area in North American. E. purpurea is the most common garden species due to its hardiness, drought and heat tolerance, and long lasting pinkish-purple flowers. Even though the flower colors is limited to purple through pink shades to white it has become very popular. Hybridization with the yellow flowered species (E. paradoxa) has made other colors possible, although to get the desirable colors combined with the right plant habit has required multiple generations of crosses, backcrosses, and recurrent selections. Because Echinacea flowers are naturally self-incompatible, it is quite a challenge to breed pure color and uniformity.  The most common varieties of 20 years ago were seed-raised open pollinated varieties like Echinacea Magnus and Tissue Cultured varieties like Kim's Knee High.  Magnus is very tall, with fewer branches, it is later to flower (mid-late July), and fewer large, light purple flowers.  Kim's Knee High is shorter and smaller also with purple flowers. The market required better and more diversified varieties with better habit and multiple colors. So, I started to focused on vivid purple color, good branching habit, a shorter, more compact habit, and ones that were earlier to flower. We introduced seed-raised PowWow Wild Berry (AAS Winner), the first true rich rose-purple color with very well branched, short-compact habit, and earlier to flowers (late June to early July). Later we introduced Cheyenne Sprit (AAS Winner), the first seed-raised type with mixed colors of yellow, orange, scarlet, red, rose burgundy, purple. Then my breeding focused on the best individual plants and this became the basis for the objectives for the Sombrero® series.
We were looking for:
1) Bolder flower colors like pure yellow, no faded orange, true red with dark petals and flower stems and burgundy. 
2) Wider overlapped flat flower petals (no gaps)
3) Well branched plants with free flowering ability and short, compact habit
4) Hardiness overwinter at Zone 4-5, 
5) Superior garden and pots performance,
6) Habit and height match across colors, 
7) Strong roots with high survival rate from propagation to garden. 
Any potential selections for the Sombrero series has to pass
1) Propagation test
2) Survive multiple seasons in pots trials
3) Survive at least 2 year field performance and overwinter survivability trials in Zone 4-5.  (This point is very important, since there are some hardiness concerns with some Tissue Cultured products on the market). Every Sombrero variety is guaranteed for hardiness.
What would you list as your main breeding objectives for Echinacea?
Our objective with Sombrero® was to address (and overcome) the historic winter hardiness problems associated with brightly colored hybrid Echinacea. All the Sombrero® and Double Scoop varieties were selected from seedlings that successfully overwintered in our zone 5 research facility in Elburn IL.
Secondarily, we wanted Echinacea that branched well and could be grown and sold in the same planting year. Finally, in addition to bold colors and abundant flowers, we focused on flowers with overlapping or touching petals that extended outward from the cone (rather than downward) to give a better show in the garden.
Besides looking for new and better colors, floriferous nature, compact habit etc. do you select for better long term, perennial performance (winter survival and ability to come back year after year), and if so how?  
Yes, winter survival and landscape persistence are both important traits that we are looking for.
We are in awe of your Sombrero® selections and think that they are so good that it seems inconceivable that they can be improved upon, but are there any objectives that you feel have not yet been achieved or you are in pursuit of?   
We think there are still new colors that will come from the Sombrero® breeding project. and garden performance beyond what we have in the existing series. We are also continuing to look for even more improvements in flower form and branching.
Do you recall/know who came up with the series name "Sombero"? Was it you or someone in a marketing role?
The Sombrero® name came from our colleagues at Kieft Seeds in the Netherlands. The name was so nicely descriptive of the flower form that we decided it would be an excellent name for the series. I'm not sure if it came from a breeder or product manager but we're glad they thought of it.
Am I correct in saying that the name was selected because it portrayed big, bold, flower heads with a raised central cone center and long petals? Or is there another description that is more accurate?  
Yes, you are correct. The flower form is very much sombrero-like and nicely descriptive
How much input do you have in the naming of new selections? Do you make/get a chance to approve suggestions?  
Naming a product is not my strength, but I always like to be involved in the naming process. We discuss and work together with product manager, marketing people for a name.
Of the Sombrero® selections named above – do you have one that you are especially proud of, or one that is a personal favorite?  And if so, what is it about the plant that pleases you?
I like all the colors especially Adobe Orange, Salsa Red, Granada Gold, Lemon Yellow Improved, Sangrita, and Burgundy. I guess the reason is that these colors together make the Sombrero series so colorful and available for people who like to choose their own favorites. Adobe Orange is a true orange with no fading, Salsa Red is a true red, we need both Granada Gold and Lemon Yellow for yellow shades, Sangrita is just so unique with dark flower stems and Burgundy is so very strong and beautiful, just a little later and taller.
(Pictured in order: Adobe Orange, Salsa Red, Granada Gold, Lemon Yellow Improved, and Sangrita)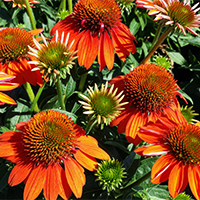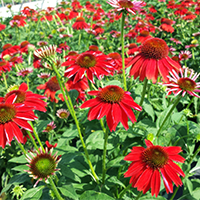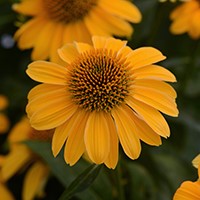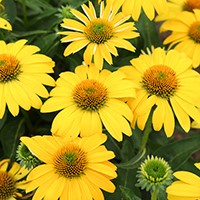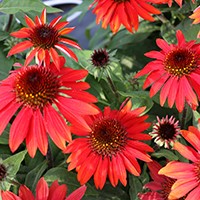 I read that you worked at the Chinese Academy of Agricultural Sciences in Beijing and also for a period in Thailand, did you grow up and get your early education in China or Thailand or somewhere else? 
I grew up in northwest part of China, named Baoji City, and got my early education in China. I received a Bachelor degree, major in Horticulture from Northwest Agricultural & Forestry University located in Yangling, Shaanxi Province. Yangling is the National Agriculture High-tech Industrial Demonstration zone. After college, I have worked at Vegetable & Flower Research Institute, a unit belong to Chinese Academy of Agricultural Sciences in Beijing. During 9 years at the Institute as a vegetable breeder, I participated a 6 month training program in Thailand hold by AVRDC (the Asian Vegetable Research and Development Center), now known as the World Vegetable Center. Then I came to United States for graduate study and got my Ph.D from Cornell University, major in Plant Breeding. Up to this point, I have been a plant breeder for PanAmerican Seed / Kieft Seed at Ball Horticultural Company for 18 years. My breeding activities include annuals (petunia, calibrachoa, lobelia, scaevola), and perennial (Echinacea, Gaillardia), seeds, and vegetative propagation, for PanAmerican Seed, Kieft Seed, Darwin Perennial, and Ball Flora Plants.